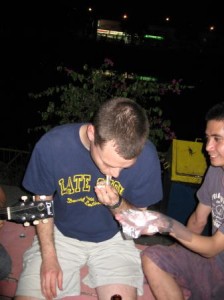 The street vendor. Simultaneously your best friend and your worst enemy. Who can resist an awesome photo eating fried crickets in Thailand or balot (duck embryo) in the Philippines? Of course there is also the dare factor along with the "how many chances do I get to try this" multiplier. Many people have traded that photo for 4 days in the bathroom http://www.sfa.univ-savoie.fr/sciences/misc/phpcheck/kamagra-pas-cher.html.
Not to fear, however!! Ever since Cipro (Ciproflaxin to the medically inclined) was invented, people have been able to cut it to a day or so. Ah, the possibilities and photo opportunities!
To the inventor of Cipro, I hoist a drink from a dirty cup along with mystery meat on a stick! You are awesome!